Located in the heart of Windermere, almost entirely surrounded by bodies of water, is the prestigious and exclusive community of Isleworth. Athletes, CEO's, Medical professionals, and entertainers call the area home. Multi-million dollar estate homes adorn this 600-acre gated community of nearly 900 residents. The world class Isleworth Golf & Country Club boasts the finest of country club experiences. Isleworth real estate is some of the most highly coveted land in all of Florida.
Isleworth Homes for Sale
3 Properties Found. Page 1 of 1.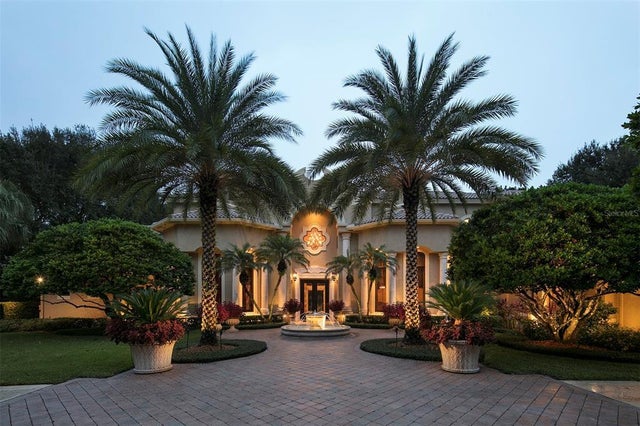 New
WINDERMERE
MLS® # O6024918
5 Beds, 6 Baths, 6,115 Sf
WINDERMERE
MLS® # O6015456
4 Beds, 6 Baths, 5,639 Sf
WINDERMERE
MLS® # O6013582
5 Beds, 5 Baths, 3,636 Sf
Isleworth Real Estate
Isleworth real estate offers residents privacy and beautiful scenery, while still retaining accessibility to all of Central Florida's world famous attractions. Surrounded by the Butler Chain of Lakes, the community enjoys over seven miles of gorgeous shorelines. There is guard patrolled security twenty-four hours a day, seven days a week. While offering privacy and seclusion, Isleworth is easily accessible via Interstate 4, and the Ronald Reagan Turnpike. This allows residents to enjoy all of the attractions of Central Florida, while returning to a home that feels as if it was worlds away.
Thanks to its lakeside location, Isleworth homes each have private boat docks and access to the local waterways. Boaters, swimmers and water sport lovers relish in their own private and pristine water front properties. Recreation and Central Florida's top rated school districts make Isleworth an ideal place to raise a family.
One of the highlights of the Isleworth community is the luxurious members only Isleworth Golf and Country Club. Living up to the community's motto "only the best," these world class facilities include an 89,000 square-foot clubhouse, equipped with a fitness center that offers state of the art equipment with aerobics and spa treatments. The centerpiece of the Club is the championship golf course, designed by PGA Golf legend, Arnold Palmer.
The Isleworth Concierge Service is staffed with experienced and caring professionals that develop customized services to meet any of residents' personal needs, allowing for the most precious of commodities, time. The Isleworth Concierge Team offers home services from laundry, house cleaning and maintenance, to pressure washing, painting, roof cleaning, and repair services. Personal services from grocery shopping, limousine service, pet grooming and auto tag registrations/renewals, can be set up. The concierge service can provide routine home inspections or collect mail while residents are away, not to mention an array of various specialty services all of which are completely customizable to meet each and every imaginable need.
Isleworth has it all. Beautiful landscape, privacy from and access to all of the excitement of Central Florida, amazing sporting and leisure activities, and breathtaking luxury homes. It is no wonder that Isleworth has earned and retained a prestigious reputation as one of the finest communities Central Florida has to offer.
Isleworth Community Information
Location: Conroy Windermere Road & Isleworth Country Club Dr, West of Apopka Vineland (Main Gate)
Surrounding Lakes: Butler Chain of Lakes - Lake Butler, Lake Tibet, Lake Chase, Lake Louise, Lake Isleworth, and Lake Bessie (non chain)
Number of Homesites: 360
Year Built: 1986 - Homesites Available
Square Footage: 2,700 - 24,000+
HOA Fee's: $1,500 Per Quarter / Gardens of Isleworth additional $900 Per Month *Subject to Change
Community Amenities: Waterfront Community, Golf Course, Guard Gated Community, Clubhouse, Tennis Center, Children's Playground, Boat Ramp, Restaurant
Additional Isleworth Real Estate Information: The History of Isleworth
Orange County Public Schools
Windermere Elementary: Grades Pre-K - 5th Distance: 2.1 miles
Chain of Lakes Middle School: Grades 6th - 8th Distance: 1.3 miles
Olympia High School: Grades 9th - 12th Distance: 1 mile
Windermere Preparatory: Grades Pre-K - 12th Distance: 5 miles
Dining and Shopping
Cascade at Isleworth & The Grove at Isleworth Shopping Center, Publix Grocery Store - Distance: .7 miles
Restaurant Row - Distance: 4.1 miles
The Mall at Millenia, Retail Shopping Centers, & BJ's Wholesale Club - Distance: 5.7 miles
Winter Garden Village Retail Shopping Center with Super Target - Distance: 6.3 miles
Downtown Orlando - Distance: 10.8 miles
Parks and Recreation
R.D. Keene Park, Sporting Fields, & Public Boat Ramps - Distance: 1.3 miles
Dr. P. Phillips Community Park, Sporting Fields, Dog Park, Fountain Water Park - Distance: 7.5 miles
Lake Down Public Access Boat Ramp - Distance: .1 mile
Dr. P. Phillips YMCA Family Center - Distance 3.4 miles
Hospitals
Health Central Hospital - Distance: 6.3 miles
Dr. P. Phillips Hospital - Distance: 6.8 miles
Windermere Featured Communities
*Distances approximately measured from the community entrance. Jeffrey G. Funk P.A., Realty Executives Central Florida, and Jeffrey G. Funk are not in any way affiliated with, sponsored by, endorsed by or otherwise connected to Isleworth Country Club, the Isleworth Land Company, Tavistock Group, or any other Isleworth entity.