Along the northern shores of Lake Butler, the largest lake in the Butler Chain of Lakes, lies the elegant and private gated Windermere community of Chaine Du Lac. Renown for being one of Central Florida's most desired communities, Chaine Du Lac real estate is at the height of luxury and sophistication. With properties of at least one acre in size, Chaine Du Lac homes for sale preserve a country like feel. Lakefront homes and estates are spacious and distinctive in their architectural design, while the private streets are adorned with hundred-year-old oak trees.
Chaine Du Lac Homes for Sale
Chaine Du Lac Homes for Sale
1 Property Found. Page 1 of 1.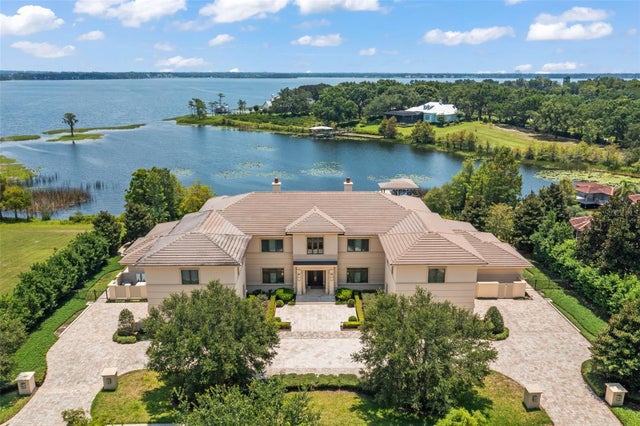 Reduced 4%
WINDERMERE
MLS® # O6123105
6 Beds, 9 Baths, 10,213 Sf
Chaine Du Lac Community Information
Location: Park Ave - West of McKinnon Road
Surrounding Lakes: Butler Chain of Lakes - Lake Butler
Number of Homesites: 44
Year Built: 1994 - Homesites Available
Square Feet: 4,000 - 13,200
HOA Fee's: $1,200 per quarter *subject to change
Community Features: Gated Community, Lakefront Community
The gated community of Chaine Du Lac provides some of the most prestigious and luxurious real estate in the Orlando area. Perfectly situated on Lake Butler and the Butler Chain of Lakes, Chain Du Lac estate homes reach upward of 13,000 square feet in size. With its pastoral, private setting, it is easy to forget how close Chaine-Du-Lac is from the excitement that is Central Florida. Residents are just minutes away from the fine dining and shopping, entertainment, sporting events, and theme parks that characterize the Central Florida area. The quality schools of the area complete the package making Chain Du Lac real estate among the finest upscale places to call home.
Orange County Public Schools
Windermere Elementary: Grades PreK - 5th Distance: 1.4 miles
Bridgewater Middle School: Grades 6th - 8th Distance: 5.2 miles
West Orange High School: Grades 9th - 12th Distance: 4.6 miles
Dining and Shopping
Shopping Center with Grocery Store - Distance: 2.9 miles
Restaurant Row - Distance: 7.7 miles
The Mall at Millenia, Retail Shopping Centers, & BJ's Wholesale Club - Distance: 10 miles
Winter Garden Village Retail Shopping Center with Super Target - Distance: 2.7 miles
Downtown Orlando - Distance: 14.6 miles
Parks and Recreation
R.D. Keene Park, Sporting Fields, & Public Boat Ramps - Distance: 4.8 miles
Lake Down Public Access Boat Ramp - Distance: 3.6 miles
Roper YMCA Family Centers - Distance: 4.2 miles
Hospitals
Health Central Hospital - Distance: 5.5 miles
Dr. P. Phillips Hospital - Distance: 10.5 miles
*Distances are approximately measured from the Chaine Du Lac community entrance
Windermere Featured Communities