Perfectly placed along the pristine shores of Lake Butler is one of the crown jewels of Windermere, FL Lake Butler Sound. Lake Butler Sound real estate is spread across 380-acres of Central Florida's most beautiful and breathtaking land. This gorgeous, upscale, guard-gated community allows residents to enjoy a peace and tranquility that feels as if it is hundreds of miles away from civilization, while maintaining close proximity to all of the wonderful attractions Central Florida has become famous for. Lake Butler Sound offers some of the finest luxury homes and magnificent community amenities in the area.
Lake Butler Sound Homes for Sale
Lake Butler Sound Homes for Sale
2 Properties Found. Page 1 of 1.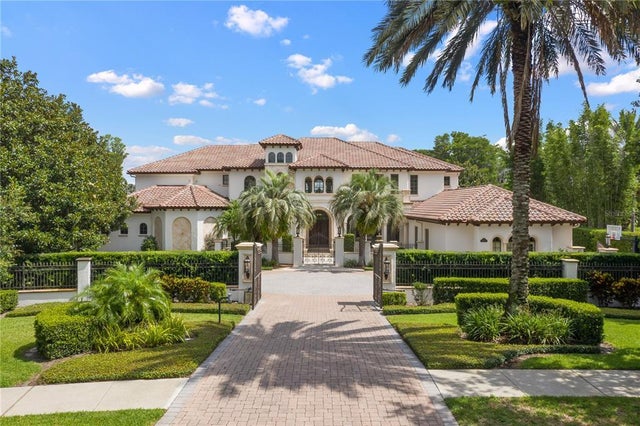 Reduced 7.2%
WINDERMERE
MLS® # O6033684
5 Beds, 8 Baths, 10,112 Sf
WINDERMERE
MLS® # O6062901
5 Beds, 6 Baths, 6,130 Sf
The Enclaves at Lake Butler Sound
Lake Butler Sound offers residents a resort-like setting to call home. Lake Butler Sound homes for sale range from luxurious estates to palatial mansions, covering anywhere from 3,200 - 88,000 square feet. These custom built homes were imagined and created by an elite team of award winning builders. Expect to find the highest standards in design, quality, innovation, landscaping, and technology. Every home is unique and adds to the overall character of this immaculate community. Divided into three beautiful and distinct enclaves, Lake Butler Sound is a homeowners dream come true.
The Reserve Section
Featuring 48 custom home sites, the Reserve has some of the most scenic homes on the entire Butler Chain of Lakes. Built on anywhere from nearly an acre to up to 10 acres of land, these beautiful estate homes and palatial mansions offer an unparalleled feeling of luxury.
The Estates Section
Adjacent to the natural preserves, the 63 custom homes in The Estates are set on approximately half to three-quarters of an acre of land. The Estates homes range from 4,400 to 9,300+ square feet in size and are just a short walk from Cartmel Gardens, Lake Butler Sound's formal English garden.
Mediterranean Section
Built on land one third of an acre and larger, the custom estate homes feature Classical and Mediterranean architectural styles. These 74 homes each have a distinctive and luxurious build, covering anywhere from 3,300 to 4,400 square feet and beyond.
Lake Butler Sound is a perfect place to call home. Its unparalleled natural setting has residents feeling tranquil and at peace, while its proximity to all of what Central Florida has to offer enables them constant entertainment. The gorgeous and stately homes offer an elegance and luxury rarely matched, and the areas top rated schools make Lake Butler Sound perfect for a growing family.
Lake Butler Sound Community Information
Location: Chase Road & Bridge House Road
Surrounding Lakes: Butler Chain of Lakes - Lake Butler
Number of Homesites: 208
Square Footage: 3,200 - 88,000
Year Built: 2003 - Homesites Available
HOA Fee's: $375 Per Month *Subject to Change
Community Amenities: Waterfront Community, Guard-Gated Community, Cartmel Gardens ~ Garden Park, Private Fishing Pier on Lake Butler
Orange County Public Schools
Windermere Elementary: Grades Pre-K - 5th Distance: 3 miles
Bridgewater Middle School: Grades 6th - 8th Distance: 6.2 miles
West Orange High School: Grades 9th - 12th Distance: 7.6 miles
Dining and Shopping
Shopping Center with Grocery Store - Distance: 3.5 miles
Restaurant Row - Distance: 6.8 miles
The Mall at Millenia, Retail Shopping Centers, & BJ'S Wholesale - Distance: 8.5 miles
Winter Garden Village Retail Shopping Center with Super Target - Distance: 6.9 miles
Downtown Orlando - Distance: 13 miles
Parks and Recreation
R.D. Keene Park, Sporting Fields, & Public Boat Ramps - Distance: .5 mile
Dr. P. Phillips Community Park, Sporting Fields, Dog Park, Fountain Water Park - Distance: 10.3 miles
Lake Down Public Access Boat Ramp - Distance: 2.8 miles
Dr. P. Phillips YMCA Family Center - Distance: 6.3 miles
Hospitals
Health Central Hospital - Distance: 7.7 miles
Dr. P. Phillips Hospital - Distance: 9.7 miles
*Distances are approximately measured from the Lake Butler Sound community entrance
Windermere Featured Communities